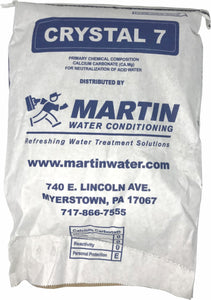 Crystal 7 - 1/2 cu. ft. Acid Neutralizer Media, pH 6 to 7
C7
Media: Calcium Carbonate - A soft crushed and screened mixed blend media effective in raising pH levels from 6.0 to 7.0.
1/2 cu. ft. bag of acid neutralizer media designed to raise the pH of your water from acidic levels to neutral levels with the use of any Acid Neutralizer (such as the Crystal Clear C1500 Series or Kinetico Neutralizer).
Shipment: Crystal medias are shipped one bag per box.
If you aren't sure whether your water needs Crystal 5 or Crystal 7, give us a call at 800-887-7555 for a technician's recommendation.
Warning: Never add more than 3 inches of Crystal to the tank at one time. If 3 inches doesn't fill the tank to the full mark, wait at least one week to add more. Proceed with these steps until Crystal level is at the full mark.