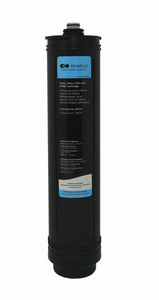 Kinetico® 9307 Taste, Odor, VOC & MTBE Filter Cartridge
9307
---
---
This replacement component is for use exclusively in the Kinetico Drinking Water System Plus Deluxe VX models and Purefecta® Drinking Water Purifiers.
Note: The MACguard® Filter cartridge automatically shuts off/reduces flow to a fine trickle after 500 gallons (1,892 litres) of water have been processed. Cartridge replacement is required to restore water flow. Installation must comply with all applicable laws and regulations.
Replacement Instructions:
Turn off the feed water to the unit. Shut off the valve on the storage tank by rotating the handle (if included). Open the drinking water tap to depressurize the system. All air/water flow must cease before continuing with Step 2. This may take several minutes.
Disengage the cartridge by turning clockwise. Pull the cartridge down from the head. Discard the cartridge.
Remove tamper-proof cap from the new cartridge by pulling the tear tab. Fill the cartridge with tap water to expel any air.
Insert the cartridge into the head and rotate counterclockwise.
Turn on the feed water. Open the valve on the storage tank (if included).
Allow the tap to remain open for approximately 15 minutes. It is necessary to rinse a minimum of two tank fills to purge air and rinse carbon fines.
Close the tap.
Check for leaks.
Replacement is complete.