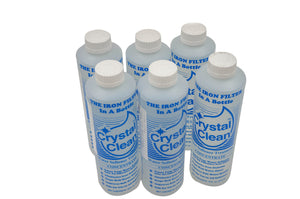 Crystal Clean™ Water Softener Treatment - 16 fl. oz. bottle - 6 Pack
CC6
(Concentrate) 16 fl. oz. bottle - "Iron filter in a bottle"
Turns your water softener into an effective iron filter
Eliminates iron staining
Stops well water odors
Improves soft water quality
Safe for use in all softeners
Effective up to 20 ppm of Iron
Your water softener is able to remove iron from your water. However, when it is removed from well water, it tends to become trapped in the water softener resin. Over time, the softener will become clogged with iron, leaving it unable to correctly soften your water or reduce iron staining.
Other iron remover treatments are unable to remove the trapped iron because they are not as strong as Crystal Clean. A water softener with resin that is free of iron will be able to prevent iron stains without the cost of a separate iron filter.