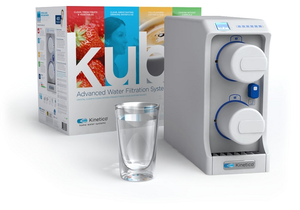 Kinetico Kube Water Filtration System
KUBE
Great tasting water right from your existing faucet
If you aren't impressed with other water filters and a reverse osmosis water system doesn't seem like an option for you, the Kinetico Kube drinking water system might be a good solution.
The Kube is better than other standard water filters at removing contaminants like lead, microbial cysts, and volatile organic compounds (VOCs). Kube is able to improve your drinking water quality and remove the taste and smell. The Kube is conveniently installed under almost any sink and uses your existing faucet for water dispensing. Kube will provide a plentiful supply of filtered water that is sure to accommodate your drinking and cooking needs.
The Kube eliminates the guesswork involved with pitcher, faucet-mount and other basic water filters. A filter life indicator will let you know when you need to change the water filters and prevent you from using a filter too long.
Kube is a great introduction to Kinetico's water treatment systems and a great way to improve your drinking water. You'll be pleased you walked away from the hassles and problems common with other drinking water options.
Improved Quality. Kube is certified to reduce more contaminants than filter pitchers and faucet-mount systems.
Convenient. The compact system fits perfectly under any sink, so filtered water can flow from your existing faucet.
Economical. Kube is ideal for those who want or need to improve their drinking water but aren't ready or able to install a reverse osmosis system. At only four cents per gallon, Kube water is great for all your drinking and cooking needs.
Filter Life Indicator. The system shows the remaining filter capacity and alerts you when a filter change is needed.
Quick and Easy Filter Changes. The twist and lock design for Kube filters makes filter changes quick and easy.