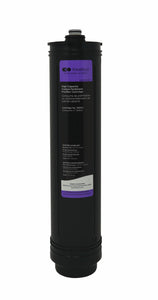 Kinetico® 9461 Carbon Sediment Prefilter Cartridge (City water)
9461
---
---
This cartridge should be replaced each time your system's MACguard® Filter (postfilter) shuts down (in systems equipped with MACguard). In K2 by Kinetico Systems and AquaKinetic A200 without MACguard, you should replace your prefilter and postfilter cartridges at least once per year.
Replacement Instructions:
Turn off the feed water to the unit. Shut off the valve on the storage tank by rotating the handle (if included). Open the drinking water tap to depressurize the system. All air/water flow must cease before continuing with Step 2. This may take several minutes.
Disengage the cartridge by turning clockwise. Pull the cartridge down from the head. Discard the cartridge.
Remove tamper-proff cap from the new cartridge by pulling the tear tab. Fill the cartridge with tap water to expel any air.
Insert the cartridge into the head and rotate counterclockwise.
Turn on the feed water. Open the valve on the storage tank (if included).
Open the tap for approximately 15 minutes. It is necessary to rinse a minimum of two tank fills to purge air and rinse carbon fines.
Close the tap.
Check for leaks.
Replacement is complete.