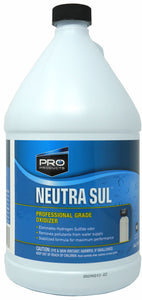 Pro Neutra Sul® Oxidizer (Hydrogen Peroxide) Case of 4 Gallons
HP1
Sold by the case of 4 1-gallon bottles due to shipping restrictions.
Pro Neutra Sul® is formulated to remove rotten egg smell and pollutants from any water supply through oxidation. Neutra Sul will prevent the formation of colors, tastes, corrosion and scaling by pollution degredation. Pro Neutra Sul is NSF Certified to meet NSF/ANSI Standard 60 for drinking water additives.
Pro Neutra Sul has proven consistency over hydrogen peroxide 7%, and uses a stabilizer that results in a shelf life 5 times longer than standard 7% peroxide.
Prevents irregular coloring and smells
Maintains a pollutant and corrosion free water supply
Restores purification of treated water
The normal procedure for removing bad odors and smells from your drinking water is often specified in the user manual for your chemical feed pump. The sizes, methods, and types of feed pumps greatly vary between manufacturers, but a normal method is to directly add Neutra Sul into your water using a chemical feed pump. 
If you are unsure of the correct dosage for your water, refer to your owner's manual.